Formed in 2001 after the disbanding of Step On the Gas, This Way Up have performed continuously across the south. The combined sound of Les Ayling's voice , Scott Herritage's crisp drumming and ex Busted Fender guitarist Tim Dunn's excellent slide guitar is worth seeing.
The experience and background of these musicians is excellent with more than a 100 years playing experience between the three of them they can take on any venue.See history
.
Latest News
Feb 2018> Pleased to announce the return of Colin Hovey to the Drum stool, he will be playing with us for the forseeable future.
Jan 2018>
After a fantastic 18 Months Kev Robey has amicably left the band to be replaced with Scott Heritage, Scott has come to us with a wealth of experience from bands such as Perfect Alibi and Skinny Lennard. We thank Kevin for a great couple of years and hope to see him soon on the circuit.
March 2016>
Kev Robey has taken over the drum stool from Colin Hovey, Kevin brings a wealth of experience from bands such as the Alibi, High Risk and Funky Junction this will be an exciting time for the band.
Oct 2014
New CD is Released. Titled 'Three Shades of Grey' Come and see as at a gig and purchase . See gig dates for details.
May 2014
New CD due out soon. Provisionally titled 'Three Shades of Grey' we are ain the late production stages with the recording.
Dec 2013
Happy new year to all, we have just added our dates through to March 2014 on the gigs page.
Apologies to anyone who came along to the George on the 17th and the Wheatsheaf on the 21st these dates
were cancelled due to reasons beyond our control. Looking forward to the new year !
Dec 2012
Happy new year to everyone, our 2013 dates are now up on the Gig dates page.
we have had fantastic 2012 and thanks to all who have come along
This Way Up Blues Band
May 2012
We have a whole number of great gigs coming up in June , a welcome return to the Pub with no Name Beer Fest which we played some 10 years ago. we also have beer festivals in Bepton ad Widley this month , keep an eye on the dates they will al be great fun. Tim Dunn has just finished some more gigs in the USA , this time he was in Monterey (pics below) and also performed at the annual Caricature reunion on the 5th May in the RMA.
Pics below Tim D playing in Monterey California in April 2012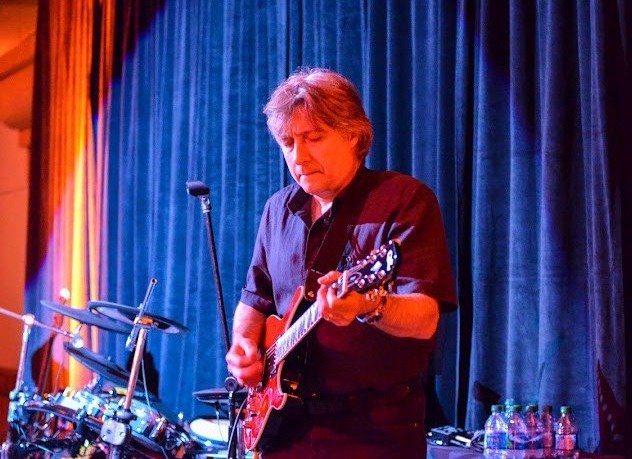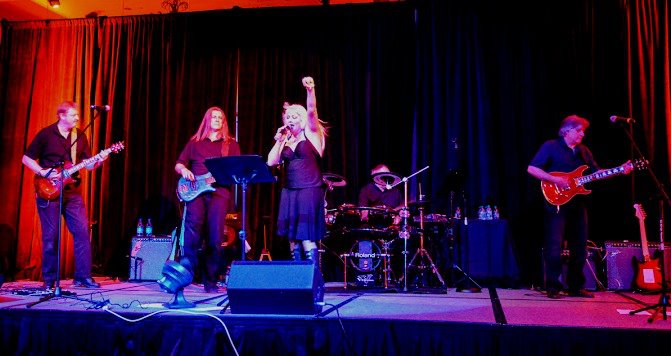 Jan 2012
A long time since we updated this page, 2012 looks to be another busy year after an eventfull 2011 .
Tim Dunn Played in Orlando US on the 11 Jan with 'Salesbound and Down' see photo's below, on his return we kicked off the year at the Tap in North End and an excellent gig at th RMA in Southsea,click here http://www.ustream.tv/recorded/19915118 for a live recording of the gig.The fantastic John Dominic joined the band for three numbers , John has played with Mick Fleetwood, Deboroh Bonham, Robin Bibi and Hugh Cornwell to mention just a few . Check out the gig page for more dates coming up, we have a full schedule again this year.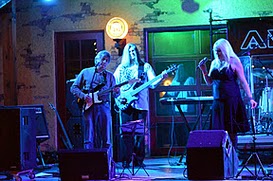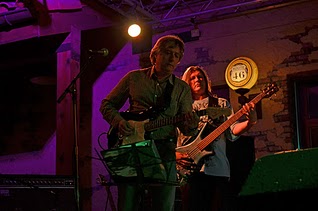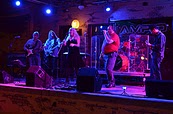 Above Tim Dunn performing in the US on 11 Jan Lake Mary Nr Orlando Florida
Nov 2011
Catch us live at the RMA follow this link
http://www.ustream.tv/recorded/18018474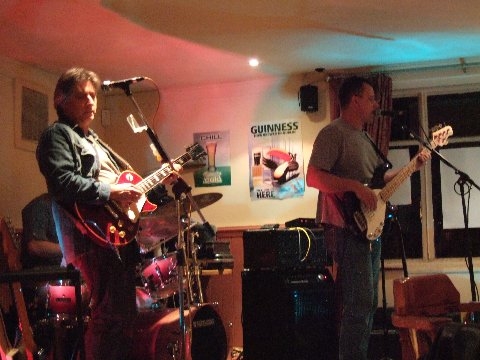 May 2010
Congratulations to Tim Dunn on the birth of his son James on 16 April. We are taking it easy for the next 6 weeks to help him through the sleepness nights. Despite his son being born at 9AM Friday the 16th ,Tim still manaed to play the Caricature reunion gig on the 17th. All went well well.
This month we have a short notice date at the Woodmancote Arms this gig will be Allan and Linda Leggs last do at the pub as they will move on to new pastures. We have had a number of great gigs there so please come down amd give us your support. Click on the link above for directions.
Also at the end of the month we are back as the Swan at Woolston, one of our favourite haunts so if you get the chance come and see us there.
Spring 2010
The band continues to gig regularly and had a repeat booking again at the Gosport Beer festival again this year. Some great dates coming up in March and April if you can make them. Of particular note is the Woodmancote Arms on the 3rd April, we had a great time hear a few months back and if you can make it out to this pub it would be great to see you.
Also great to be back at the Hawkley inn nr Liss, if you are in the Petersfield area come out and see us there.
Winter 09
Two new great dates to tell you about in Novemer, firstly the Woodmancote Arms are presentinga music night with us on November the 13th, if Bishops tipple is your ale then be there. To find out how to get to the Woodmancote Arms click here . On the 14th we are tthe White Hart , London Road Petersfield, which is a welcome return to this area for us. Check out our gig dates for other venues this winter . Hope to see you there.
Also two videos of the band are on myspace at www.myspace.com/thiswayupbluesband .
Summer  09
We have had a good summer of gigs this year and spent some great time meeting new people in new venues, thanks to all those who came along the the White Horse at Beeches Hill and the regulars at the Barleycorn in Bishops Waltham who also cam along and gave great support at the Brewery Bar in Botley. Thanks especially to the guys from 'Somethin Else'
Les contnues to increase his ever expanding collection of base guitars look out for his new electric stand up base.
The Future looks good with new venues st the Shore Inn in East Wittering, The Anchor Ropley and the Rising Sun at Milland early next year. Keep looking at the gig lists as we will  continue to gig regularly through the winter.
Feb 09
After a surprisingly good January we have some good dates coming up for February and March.
Firstly try and make it to the Ferryman at Warsash this Thursday they are looking to start up a Blues night there and looking for support.
Next its good to be back at the Bugle Tichfield for the first one this year and of course the George at Widley on ( The A3 just up from Cosham ) is just an excellent place to go on a Tuesday night.(17th)
Back by popular demand at the Gosport beer festival on the 20th 
Jan09
This year Tim D celebrated the new year in at the Woodmancote Arms, where Deborah Bonham with some of her band and other friends were doing one of her new years eve gigs  . Tim got up for a short set with Paul Fuller on Vocals and John (JD) Dominic on Harmonica backed by Dave Clark on Bass and Burles Burlington on Drums (from the Deborah Bonham Band). Tim's bit  closed on Copper Head Road with Pete Bullick (Deb's Husband and Guitarist) joining On Mandolin. Tim D then went on to swap places with Pete to play Mandolin on Maggie May with Deborah Bonham singing  . Great fun was had by all, and if any of you get a chance to see the Deborah Bonham Band   over this year they are excellent .
Dec 08
Wishing a merry Christmas and a happy new year to you all. With all the depressing news around at the moment we urge you all to give yourself a break and get out and see some music. The pubs nead our support to keep going. Thankfully we have gigs for the new year enabling the band to continue in good form but 2009 we think will prove a tough one.
Tim  Dunn continues to make life difficult for himself, not only did he trap his right thumb in a car door in August, but in November managed to slice a sizeable chunk of his left index finger off with scalpel - thankfully he will fully recover from both injuries , but the RMA and Fountain Chichester in November were a bit touch and go with the guitarist left index finger in double bandage.
FYI the Fountain at Rowlands castle is now back to Acoustic - thanks to the strange tradition in the UK where someone can decide to live next to a pub that has been there for 400 years and complain about the noise !
New venue to look out for is the George up at Widley above Portsmouth, and of course we are back at the Fat Fox  Southsea on Monday the 19th January (TD's Favourite)
August 08
Tim Dunn and Les Ayling played at a charity event at the Woodmancote Arms organised by Deborah Bonham in aid of the race horse sanctury in Cowfold for which she is a trustee.Great fun was had by all. Also playing were some members of the Deborah Bonham band plus Paul Fuller, and John Dominic,Tim reports it took 36 hours for him to sober up
We are back at the New Inn Swanmore on the 30th August  ,lookforward to seeing those of you who can make it.
Also we are at the Fat Fox in Southsea on Monday the First September, great venue - please come along if you can.
Meanwhile keep an eye on the listings for September.
May 08
Two great new venues for us in April, the Brickmakers and the New Inn, thanks to all who supported us there (special thanks to Graham and Jane for the tip).We will be back keep an eye on the gig dates.
Don't forget the Wheatsheaf Beer Fest in May and the Hawkley Inn Beer fest in June. should be good nights.
March 08
Bored on a Monday night ? Get down to the  Fat Fox in Southsea where Spiderpromos are running a blues night. We will be there on the 7 April,but we understand the event is every week starting 24 March.
Thanks to all those who supported us at Gosport beer festival, we had agreat time.
Feb 2008
We will be playing the 16th annual Beer Festival at Gosport in Febuary,for more info folllow the link below.
October 2007
Andy Mills (ex Drummer from Busted Fender Blues Band no of the Reds) will dep for Colin at the Four Chestnuts in Chichester on the 24 November.Andy now lives in Devon and so will travel from Devon the Chichester to this gig, give him a warm welcome.
September 2007
As reported in August the Busted Fender live album recorded at the Boarhunt Blues Club in 1991 has been released. Available from this web site - write to send us an email plus £5 and we will send you the CD.(Track List : Death Letter,CatFish,Texas Flood, Payin the Cost,747,Fine Fine Fine,Hyping Woman Blues,Mojo Boogie,Route 66,Madison Blues.)
This Way Up in the meantime look likely to record their third  CD mid next year.
August 2007
 There are strong rumours of a Busted Fender Blues Band live CD may get released, dating from 1991 recorded at the Boars Head in Wickham (Ponderosa) . You heard it here first and whatch this space for more details .
Tim Dunn continues to wrestle with problems with his Fender Twin which he has had for 20 years, the Swan at Woolston and the Old House at Home in Portsmouth saw him struggling with this piece of equipment,which has run fault free for the last 10 years, he assures us that he has just purchased a complete set of new pre-amp valves to resolve this issue. We await with trepidation !
May 2007
Catch us at the Hawkley Inn Beer Festival near Liss on the 1 June 2007. Also come along to the excellent Blues night at the RMA Tavern in Eastney Portsmouth on Sat 16th June. See gig list for other dates.
April 2007
David Trott and Fred Cartwright Jam with 'This Way Up' at the Contented pig in Portsmouth on 30 April 2007. See photo's below, David Trott who was of the Detroit Diesels ( & who also played Guitar in 'Step On the Gas' in 1994 before Tim Dunn)  took the stage to play fabulous renditions of 'Stormy Monday' 'Hoochie Coochie Man' and 'Sweet Home Chicago'. Fred Cartwright who played harmonica on This way Up last CD also joined. Sad to see that Dave T will be leaving for Glasgow soon.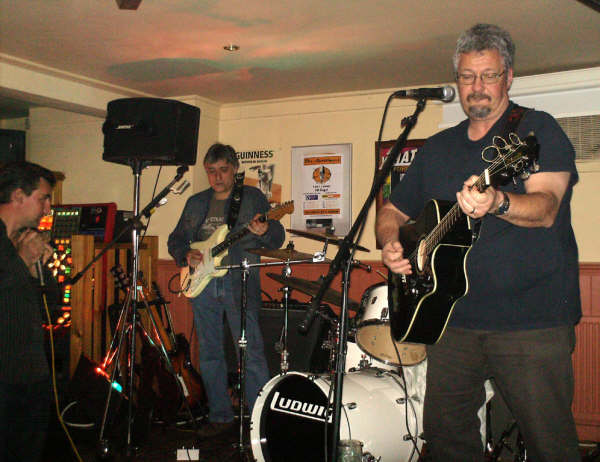 Lef to right - Fred Cartwright,Tim Dunn,Dave Trott.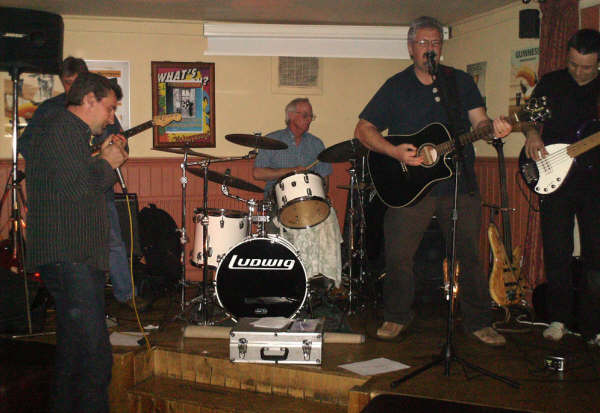 Left to Right - Fred & Tim D (behind) ,Colin Hovie,Dave Trott,Les Ayling. (photo's Viv Gregson of the Alley Cats)
Busted Fender Blues Band - Official site 
Barking Spider Music and events Andy Broad's  Blues Site